It's time to make new holiday memories! Encore Resort at Reunion is the perfect place to get in the spirit and celebrate the most wonderful time of the year with your loved ones. Filled with festive fun for everyone, our very merry holiday itineraries highlight our holly jolly season-long offerings, special Orlando events, as well as specific days with special one-time-only delights!
From Encore events to local activities, our suggested December itinerary lists are filled with fun, sun, and Christmas spirit — better check them twice!
It's Time to Sleigh the Day!
Half-Day Itinerary
4:00 p.m. — Check into Encore Resort at Reunion
Welcome to Encore Resort at Reunion, a family first resort filled with top-notch fun! Check-in is the perfect time to explore the dazzling decorations and amazing amenities as you get settled in your curated resort residence.
5:00 p.m. — Train to be an elf at Pippi's Elf Adventure Academy
Enter the Encore Clubhouse Workshop and learn how to spread the ultimate Christmas cheer, Santa style. Children and adults of all ages are invited to become one of Santa's helpers as a gleeful elf guides everyone through holly jolly and quality crafts perfect for all Christmastime needs!
Pippi's Elf Adventure Academy takes place from 12:00 p.m. to 8:00 p.m. on December 14–31. Prices will vary!
7:00 p.m. — Grab Dinner and Enjoy the Christmas Tree Stroll at Disney Springs
Disney Springs is filled with fun, food, and festivities. Eat at any of the highly acclaimed restaurants, and be sure to check out all the merry decor! The crown jewel of the Disney Springs holiday events this year is The Christmas Tree Stroll. Presented by Advent Health, The Christmas Tree Stroll has a ton of beautifully decorated Christmas trees themed to beloved Disney movies and attractions.
It's Time to be Merry!
Full-Day Itinerary
10:00 a.m. — Get Breakfast at Grab 'n Go Inside the Clubhouse
Fuel up for a day of fun at Grab 'n Go! Perfect for a quick bite, a full line of gourmet coffees, fresh fruit smoothies, and light bites can be found at the Grab n Go counter in the Encore Resort Clubhouse.
12:00 p.m. — Make your way to Universal Studios Resort Orlando for some Merry Mischief
Take one of our free theme park shuttles to Universal Studios Resort Orlando, where two incredible theme parks await you and your family. Be sure to check out their seasonal offerings, such as an all-new Macy's Balloon Exhibit, the enchanting decor at The Wizarding World of Harry Potter, and jolly character experiences!
7:00 p.m. — Have a Meal Prepared in-home with Encore's Chef & Bartender Experience
Experience the luxury of having a professional chef or bartender in the comfort of your vacation rental home! Our chefs will prepare a meal of your choosing, and our bartenders can create cocktails as well as pair drinks with meals.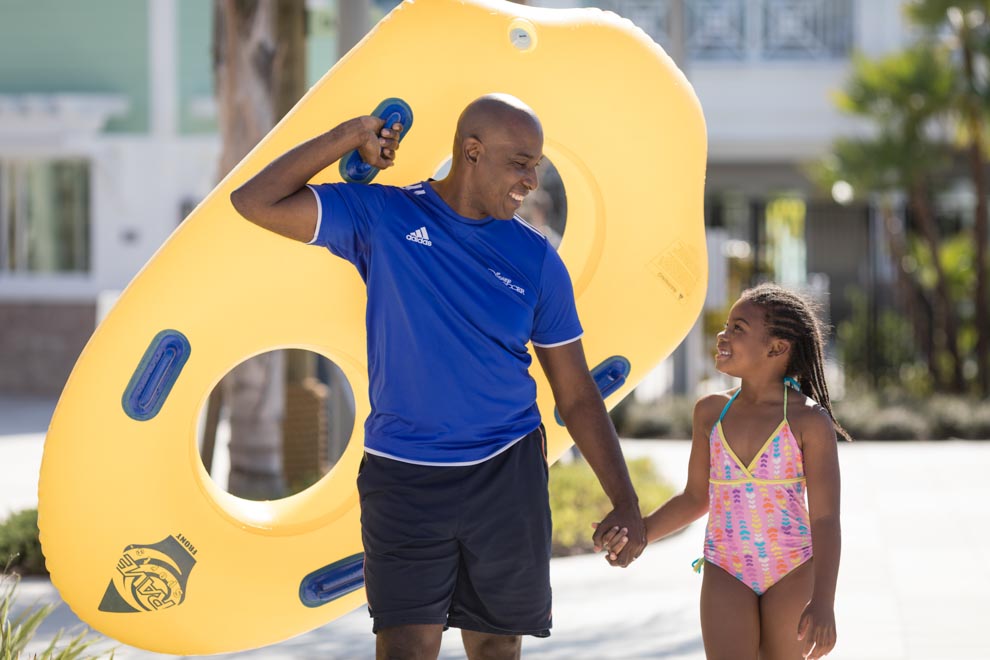 It's Time to Soak up the Season!
Special December 23rd Itinerary
10:00 a.m. — Splash with Christmas Spirit at Encore's Epic Water Park
The Water Park at Encore Resort at Reunion is the ultimate in wet and wild fun! Our water park spans 10 acres and has something for everyone. Thrill-seekers will enjoy our three water rides — WaveRacer, Stormchaser, and Tsunami — that plummet off our 60-foot tower. Our Surfing Safari Kids' Splash Area is great for younger guests. There's also a huge swimming pool with covered cabanas that are available for rent.
1:00 p.m. — Have a Delicious Lunch at Finns Restaurant
Finns Restaurant at Encore Resort at Reunion is the perfect place for a family gathering with great food that's sure to please everyone. Menu items include flatbreads, sandwiches, burgers, and salads. Finns Restaurant is now open for breakfast, lunch, and dinner.
3:00 p.m. —  Travel to Curry Ford West for Picture Perfect Holidays by Slice Creative Network
Come frolic through five festively fun photo spots at Picture Perfect Holidays. Located in multiple stations around the Curry Ford West Community, this socially distant main street event is a creative collaboration of over 45 Theme Park Professionals who have come together during this difficult time to spread much needed Christmas cheer. This event not only creates a celebratory, joyous atmosphere but also invigorates the community, supports the local culture, and brings people together while still keeping them safe.
Picture Perfect Holidays will be open and free to the public from December 12–27.
7:00 p.m. — Story Time with Santa and Mrs. Claus at the Encore Clubhouse
Santa Claus is coming to town! Cozy up with some hot cocoa, and Christmas cookies as Santa Claus and Mrs. Claus dazzle your family with delightful stories, carols, and more. The jolly couple is expected to stop by the Clubhouse on December 23 from 6–8 p.m.
It's (Almost) Time for Santa!
Special December 24th Itinerary
8:30 a.m. — Register for the Jingle Bell 5K and Get Ready to Race at 9:00 a.m.
Start the big day strong like Santa! On December 24, make your way around Encore Resort as sleigh bells ring out for the Jingle Bell 5K. Registration opens at 8:15 a.m. at the Clubhouse, and the big race begins at 9:00 a.m. Prizes will be awarded to the top 3 competitors, and the event is open to all ages.
Cost is $10 per person. Free admission for children ages 5 and under.
2:00 p.m. — Enjoy the Perfect Florida Weather in a Poolside Cabana
Be merry and bright as you enjoy the sunshine in your own private poolside cabana. Our cabanas are the perfect hideaway for a party of up to six people to relax by the pool. Each rental comes with two chaise lounges, two cozy couches, a TV, ceiling fan, a safe, and a mini-fridge filled with four complimentary bottles of water. Hungry? No problem! Enjoy delicious gourmet food and frozen cocktails poolside.
5:00 p.m. — Get a Special Stocking Delivery!
Make your holiday even more memorable with a personal stocking delivery from one of Santa's elves! Ensuring their spot on the "nice list," the Elves have gone above and beyond to make sure any and all deliveries are done in a safe and socially distant manner.
The price is $25 for the first stocking and $20 per each additional. Be sure to snag a reservation, as space is limited!
7:00 p.m. — Night of a Million Lights at Give Kids The World Village
'Tis the season to sparkle! Give Kids The World invites you to their newest, most glittering event: Night of a Million Lights! Give Kids The World Village is an 89-acre nonprofit resort where children with critical illnesses and their families spend a weeklong "storybook" vacation cost-free. For the first time ever, guests can stroll through the whimsical and vibrant village and behold over 3.3 million lights gleaming and glowing at this immersive, walk-through holiday spectacular event!
Night of a Million Lights runs from November 13–January 3. Buy tickets here.
It's Time for Christmas!
Christmas Day Itinerary
10:00 a.m. — Open Presents!
Merry Christmas! Spend the much-awaited morning opening presents galore in your curated resort residence.
12:00 p.m. — Experience Christmas Magic at Walt Disney World
Walt Disney World never disappoints for the holidays, and this year is no different. Take a free shuffle over to the parks and experience Disney Christmas Magic with new character cavalcades, stunning castle projections, and gorgeous decorations!
Encore's Holiday Wish…
With all the Christmas magic swirling around Encore Resort and all over Orlando, there is no doubt that a holiday here will be a blast! It's time to make new holiday memories, and there is no better place to do so than Encore Resort at Reunion. From the Encore family — we wish you and yours a Merry Christmas and a Happy New Year!
Share With Your Friends & Family